* Indicates a required field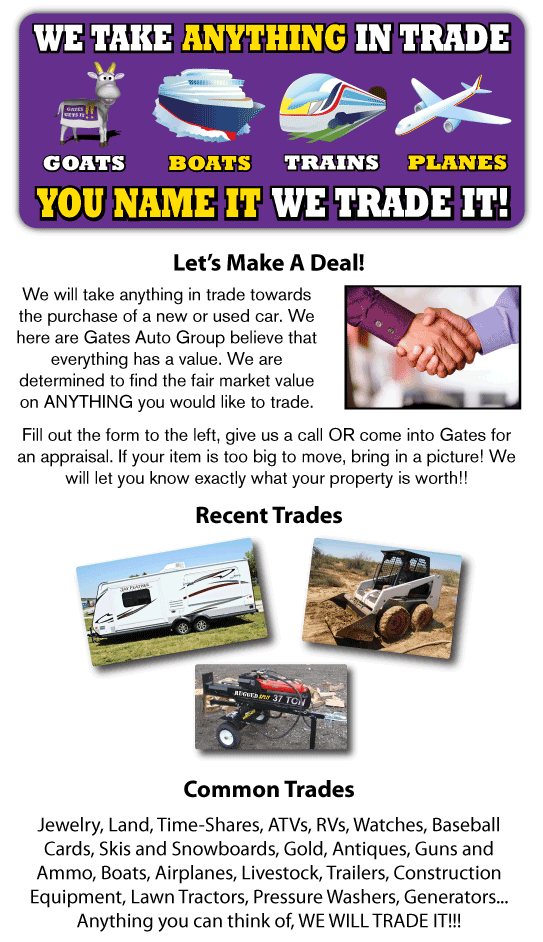 Hours
Monday

8:00am - 7:30pm

Tuesday

8:00am - 7:30pm

Wednesday

8:00am - 7:30pm

Thursday

8:00am - 7:30pm

Friday

8:00am - 5:30pm

Saturday

8:00am - 4:00pm

Sunday

Closed
Give us call OR come into Gates for an appraisal. If your item is too big to move, bring in a picture! We will let you know exactly what your property is worth!!We will take anything in trade towards the purchase of a new or used car. We here are Gates Auto Group believe that everything has a value. We are determined to find the fair market value on ANYTHING you would like to trade.
We Take Anything In Trade! Goats Boats Trains Planes! You Name It, We Trade It!
Some other items we take in trade are Vintage Car, Motorcycle, RV/Motor home, Land, Gold, Collectables, Power Tools, Lawn Mowers, Farm Equipment, Rifles, Diamonds, Furniture, ATV/Dirt bikes, Jewelry, Watches, Computers.